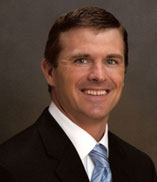 Dr. Tony Origer, D.C., A.T.C.
Chiropractic Physician and
Certified Athletic Trainer
Dr. Origer specializes in conservative management of orthopedic injuries of the spine and upper and lower extremities.  He often co-manages treatment options with many allied health professionals to obtain positive results for patients. Dr. Origer provides care for numerous college and professional athletes and enjoys providing lectures for athletic trainers on conservative management of sports related injuries. Dr. Origer is also a staff member of Methodist Sports Medicine and provides patient care at their Carmel location.
Education
Doctorate of Chiropractic, Palmer College of Chiropractic
B.A. Sports Science/Athletic Training, Loras College
Experience
Clinic Director, Performance Chiropractic and Sports Rehabilitation (2000 - Current)
Indianapolis Indians (IBL Triple AAA) Team Chiropractic Physician (2002 - Current)
Indiana Legend (ABA) Team Chiropractic Physician (2001 - 2002)
Indiana Fever (WNBA) Team Chiropractic Physician (2001 - 2003)
University of Indianapolis Athletic Training Department, Chiropractic Consultant and Associate Clinic Instructor (2001 - Current)
Franklin College Athletic Training Department Chiropractic Consultant and Associate Clinic Instructor (2001 - Current)
Methodist Sports Medicine Staff (2012 - Current)
Certification and Boards
National Board of Chiropractic Examiners
National Athletic Trainer's Association
Chiropractic Association for the Care of Elite and Professional Athletes